Today was a good day. My husband decided to take Wednesdays off for awhile after we brought Frances home. This morning we were able to sneak out - just the three of us - for a quiet little breakfast date. We sat in a cozy coffee shop, eating our scones and sipping our coffee, Frances snoozing away in her little seat. We talked about family and the future and what we hope for our kids. A few other patrons gushed over Frances and all her cuteness. Two sweet little ladies asked us our story and shared a bit of their own. One of the servers came by to refill Nick's coffee and whispered to us that the gentleman sitting at the table next to us had picked up our bill. Taken aback, Nick leaned over and thanked the man for his generosity. Looking a little embarrassed, he said he hadn't intended for us to know it was him, smiled and went back to his reading. We were both so touched at the kindness of a stranger. I've thought of him a lot today, said a prayer for him, and am tangibly reminded of what a difference a small gesture of kindness can make.
Today I am thankful for my family, for quiet moments with my husband, and for the goodness shared by strangers and friends alike that bring little blessings all along the way.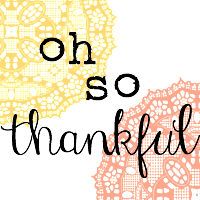 Your turn.
What has blessed you this week? Tell me, grab a button or link back, and go encourage of few new friends.

And happy thursday!