This has been a full, crazy week.
I am thankful for so so much.
My firstborn started kindergarten this week.
To say there were a few tears would be an understatement. From both of us.
He has such a sweet, tender heart. He is full of life and humor
I know he is going to love school so much.
But today he misses his mama. I am thankful for his courage
and his sweetness and the way he is growing into a little man.
With one at school all day, I've been a little more organized with time.
All our laundry is done (never happens), I've had some sweet one on one time playing with
I've even had time to kick back with my coffee and take it all in.
That hasn't happened for awhile. Productivity+relaxation is a rarity around here.
Nearly every night for the last couple of weeks I've been working on onesies, headbands and necklaces.
boutique across the country.
To think of my little creations hanging in an actual shop is enough to make my heart palpitate.
I am super grateful for new opportunities and partnerships with women around the country.
a husband who sings and plays guitar to unwind at the end of a long day
a boy who doesn't care a lick about his broken foot
preschool starting next week (thankful and more crying, I'm sure)
loving late summer, early fall weather and a little harvest from my humble garden
sweet friends and family who love my little brood and are a constant support
What are you grateful for?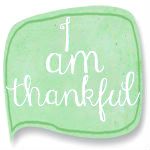 Grab a button or link back here in your post
and please go say hello to some new friends!
And, as always, I am thankful for each of

you

.