A bracelet exchange with another blogger? Heck, yes.
Fate had a hand in our match up, too, I'm pretty convinced.
She outdid herself with all the swag she sent me!
Five lovely bracelets that she made herself, which are so me.
And the funny thing is, the ones I designed for her were so similar, it was kind of weird.
She also sent me some super fun decals from her shop,
including the one you see up there on my mac.
The phrase "you are loved" has been on our hearts for the last year.
Nick even ordered 50 buttons to give to the people he works with
as a reminder of where our worth comes from.
Kind of amazing that Erin sent me that very thing!
Nick couldn't believe it either when he walked in last night and saw it right there on the computer.
I love how things like this work out, and meeting fantastic new cuties like Erin!
This arm party has inspired me to work on more bracelets for the shop -
so keep an eye out for some fun new listings in the weeks to come.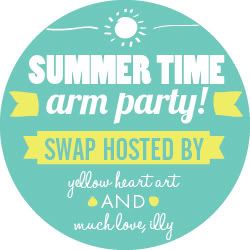 Thanks for a super fun party, ladies!
And thanks, Erin, for all the sweet pretties!
(Psst... the
giveaway
is almost over. Have you entered?!)