This weekend was a good one.
The sun was shining all over the place and the temps were downright springlike. Because of the dang 10K my sister made me sign up for against my will, I actually got out and went running. I daresay I even liked it. And I started mapping out running routes around my house. I don't know who I am anymore.
I also had an amazingly successful thrifting excursion with my new bloggy friend, Erika over at Rouge and Whimsy! It was my first time meeting a blog friend in real life, and I have to say, she really is as cute as can be and she led me to a treasure of thrift store goodness. In one trip I found the two dressers I've been searching weeks for, a frame to make some pinterest dreams come true, and Anthropologie mugs that match some that I already have. They still had their $10 price tags on them, and I picked them up for $1.99. Stop.
Nick was more than thrilled about the dresser situation, since I sold ours over a week ago and I have a massive pile of clothes at my bedside. (Sometimes this happens even with a dresser, who am I kidding?) I came home and told him how excited I was to paint everything and he was like, "Awesome! Go buy paint right now." And then I came home to three dressers and a bookshelf in the driveway, ready to go.
Maybe he knows I am a procrastinator?
Speaking of Nick, he let me sleep in two days in a row, took the boys to ride their bikes for a full afternoon, and even cleaned the entire kitchen and dining room this morning.
I don't deserve him.
Then today we spent the evening with my parents and my sister and brother in law and my cute, squishy niece. People watched football, but I mostly ate wasabi almonds because they're amazing. And I held that baby, and played a little hopscotch with my boys.
Football, schmootball.
I love hanging out with my family. Not only because they are awesome, but because they love my boys to pieces and entertain them for hours. All weekend I have heard approximately 483 times, "We go to Gwama an' Papa's house now... right, Mama?"
So, the feeling is mutual.
I've also been thinking and dreaming of my baby all day every day.
Still no word, but we have peace in our hearts that at just the right time we'll get that happy call.
And speaking of adoption, there is a very sweet little girl and her family who need your prayers. Will you swing by and meet Pie and say a prayer for them?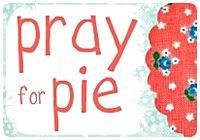 I hope your weekend was lovely, too!