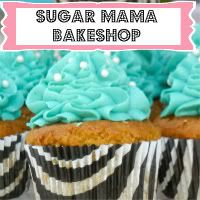 Have you ever had an encounter with someone and known that it was probably divine? That's how I felt when I started exchanging emails with Ashley. She was the first to respond when I opened my blog up to sponsors. Not only that, she wanted to help with the adoption. Say what? I was overwhelmed and felt super blessed. She really is an amazing girl.
Today is Bakin' it to the Streets day, which is completely perfect because Ashley has an
etsy shop
selling her vegan and gluten free cupcake mixes. She has been selling them throughout the Denver area and wanted to broaden her business.
Here is where it gets even better: she made a special Bakin' it to the Streets cupcake kit and is
donating part of every sale right to our adoption
! Can you even stand it? You get cupcake mix, frosting mix, sprinkles, liners, and a cute little box to deliver some cupcake cheer. I can't think of anything better!
And today you can be the lucky recipient of some of her fantastic cupcakes because she is giving away one of her mixes!
Just leave a comment to enter.
Bonus entry if you check out her shop and let us know your favorite item! She is giving 20% off of every purchase to her facebook fans, so go check out her page.
And please stop by
Ashley's blog
and leave her some love. She deserves it!
how cute are they?
And of course, don't forget to share some treats with someone in need.
Like maybe some cupcakes?
The boys and I dropped off a plate of cookies for some friends who really do an amazing job serving our community.